One of the most important projects that members have been working on recently has been the Champions of the Force Holonet; a monthly newsletter for guild members, made by guild members. The Holonet includes interviews with guild leadership, lightsaber combat form analysis, as well as any pertinent information in regards to SWTOR updates.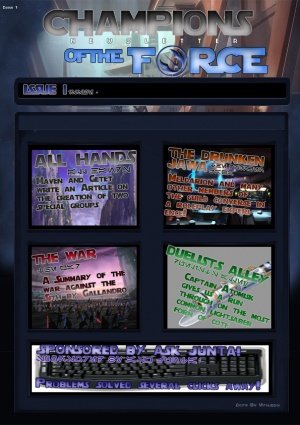 Commen contributors include:
And the formatters and presumed editors of the revamped Holonet were Erithos and Cadan Qel-Droma.
CotF Holonet Issue 1
Cotf Holonet Issue 1 came out on the old site, but was quickly reformatted with a new design and rereleased during the beginning of June. A preview of the cover page can be seen to the right, and the full holonet can be found on the forums
Cotf Holonet Issue 2
Cotf Holonet Issue 2 came out in july month and it was a great read, it was created using the old format with more pictures. You can read it Here
Graphic Team
The Graphic's team main objective is to make the Holonet along with the contributers. Along with the Holonet the Graphic team are also working on a recruiting video to help promote the guild. The Graphic team is joint-lead by Jaycen and Erithos
Community content is available under
CC-BY-SA
unless otherwise noted.